Why does Synx use Sitefinity to create Microsoft Portals?
And what makes Synx, Sitefinity and Microsoft Dynamics 365/CRM such a perfect trio?



Sitefinity first caught our eye when we saw the amazingly clean and intuitive interface, making it incredibly easy for non-developers to create and manage web content.
This was over 10 years ago and we still feel the same now. You don't need extensive technical knowledge to make Sitefinity CMS work for you. The platform also allows for major customisation, appealing to both developers and non-developers.
We know that when it comes to choosing something as important as a CMS or CRM, it's not just features that you should look at. Synx, Sitefinity and Dynamics work seamlessly together to create highly effective Microsoft portals. With these systems businesses are able to reach their goals and teams can perform to their best ability. Sitefinity has two main focuses that align perfectly with what Synx is all about, productivity and ease of use.
We're not the only people that love Sitefinity. Thousands of companies worldwide, from all different sectors use the system. Sitefinity is not just user-friendly but powerful and highly customisable.
No matter what it is you want to achieve, Sitefinity gives you full control of your web presence and empowers you to deliver everything you need to your leads and customers.
The 3 systems work together to help you achieve your web strategy by integrating your current web presence and Dynamics CRM data. By choosing to use Sitefinity, Synx is able to be the most effective and effortless solution for creating accessible and robust Web Portals.
Drag & drop interface
Sitefinity's page editor makes it easy to create rich, dynamic content by interaction with user-friendly interfaces. Content can be created by simply dragging and dropping widgets onto a page. Once in place, widgets can be edited through a guided interface that produces content consistent with the website's design.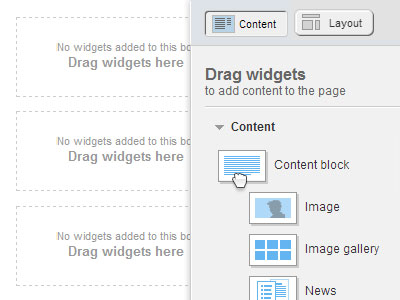 Extensive out-of-the-box features
Sitefinity provides an extensive toolset for addressing the challenges associated with managing a modern website. Solutions for mobile, email campaigns, social media, ecommerce, blogs, forums, search, and much more are instantly accessible. This allows organizations to focus on what to build instead of how to build it.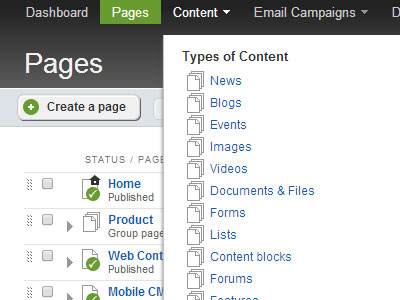 Multisite management
Centrally manage multiple websites and microsites from one place with Sitefinity CMS. Your entire team gets a single interface to manage all your sites, offering a convenient way to pivot between them to manage content. You can share assets across all sites and use them as a basis to quickly launch new sites and pages without the hassle of establishing new projects and copying resources.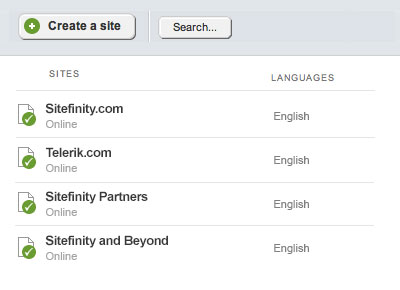 Email marketing
Increase your conversions with targeted email marketing and A/B testing. Enable your marketing team to quickly create effective emails using drag-and-drop tools, and test which messages perform the best for your target audience.